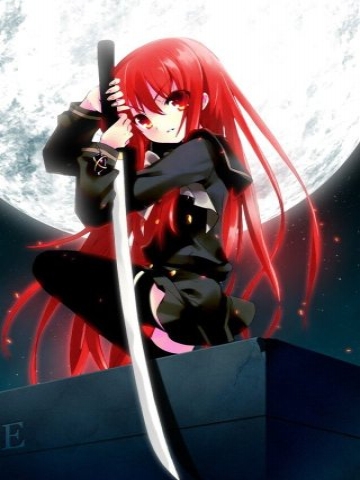 • Name:  Rin Uzumaki
• Nickname / Alias: Rin
• Title: Crimson Princess
• Age: 17
• Gender: Female
• Sexuality: heterosexual
• Height:5'2"
• Weight: 120 lbs
• Body type: Slender
• Eye color: Red
• Hair color & style:Crimson red. Just down with no particular style
• General Appearance:
Rin is short for her age. She has a nice slender figure with a flat chest. Her skin tone is fair and light, definitely not tan. Her hair color is a beautiful crimson red. Speaking of her hair, it reaches her waist, almost reaching her butt, though not quite that long.

As for Rin's attire, she will typically wear an army green school uniform that consists of a pull over long sleeve top with a large pale beige bow, a pleated skirt of the same color as her shirt that comes to just below her upper thighs. She wears a pair dark purple thigh highs and on her feet, she wears a pair of beige loafers.
• Markings: None
• Persona:
Rin in a nutshell, is a tsundere. She has difficulty expressing how she really feels. Her words often contradict her actions and when people point it out, she tends to lash out in embarrassed anger. This usually ends in her injuring someone. Despite this, Rin is a very blunt person. She always say what's on her mind and doesn't give a crap if someone's feelings get hurt because she's just being honest. Rin is a very loyal girl, especially to her kage and clan. If anyone were to insult either one, let's just say, Rin would not show mercy. Speaking of that, Rin has an extremely short fuse. She does not hold back at all when enraged or even slightly pissed off.  

Rin may be rash and really short tempered but she is still a person who likes to have fun and is friendly. She likes to meet all sorts of people and is never shy. One thing Rin loves, is to spar. She finds it to be a great way to test her strength and see just how she can get even stronger. Of course, that being said, Rin is a sore loser, she hates loosing at anything and to anyone.

Rin is the type who won't acknowledge another person's abilities or strength, unless they have her respect. Speaking of respect, one thing that can piss Rin off the most, is people who have no respect whatsoever for others.

Rin is extremely protective of those who she cares about and would willing put her life on the line to protect those people. Even if means the end for her. She tends to rush into a battle without thinking much beforehand which tends to put her into some rather dire situations. However, she always manages to come out alive somehow. In a way, Rin's just got whole lot of dumb luck.
• Motto:
• Likes:
-Her clan
-Fighting
-Nature
-Training
-Cute things

• Dislikes:
-Disrespectful people
-Ignorant people
-People who talk badly of her clan
-Idiotic people
-Crowds

• Special Characteristics:


Name: Slightly Faster Than The Average Ninja
Rank: D-C
Type: Physical
Description: The user is slightly faster than an average ninja of their rank. When it comes to speed within this rank this user will usually win. Anyone of higher rank can still out run them. 20 Speed stat increase.

Name: spiritual stamina
Rank:  C
Type: Chakra
Requirements:: Cannot have chakra control
Description: The user has a strange amount of chakra to their natural stamina, able to produced more then the average nin. Gains 25 chakra stats (cannot have medical as a specialty)d

• Rank: Sanin
• Elements: lightning, wind, fire
• Specialty: Ninjutsu, Bukijutsu, Taijutsu
• Clan: Uzumaki
• Bijuu: No

Stats:
• Strength: 100
• Speed: 80 (+20 SC) =100
• Durability: 67
• Chakra: 35 (+40 KKG + 25 SC) = 100
•Total Stats: 367(272 Base + KKG + 25 SC)
• Village: Jokigakure
• Parents: Aika Uzumaki(Mother/NPC/Deceased) & Kazuto Uzumaki(Father/NPC/Missing)
• Siblings: None
• Mentor & Idols: Stein(Joki Kage)
• History:

Rin's past and present:

Rin's Academy Days


Rin started at the Jokigakure Academy at the age of ten. She was a rather gifted female shinobi. While at the academy, Rin studied whenever she could and practiced much more than her other classmates. With her bright crimson red hair and red eyes, she drew more attention to herself. Rin would often be picked on by the boys in her class that wanted to bring her down a peg. Rin however, didn't just take it sitting down. Anytime someone tried to mess with her, Rin would always retaliate, and in a violent manner. Her violent retaliations against her bullies earned her the nickname "Crimson red hot head" from the boys in her class. Rin spent about half a year in the academy and graduated on her 11th birthday.



Rin's Time as a Genin


After Rin's graduation from the academy, she was put a team with one of her fellow clan members and another ninja. Rin was the only girl in her team which she wasn't too crazy about. As a genin, Rin took on quite a few missions. Some rescue, some escort, and even a more slightly dangerous ones as well. During this time, Rin's mother was pregnant with a baby girl. So in her down time, Rin would help her mom around the house. However, when it came to be time for the baby to born, there was a miscarriage and Rin's mother passed away. This caused Rin and Rin's father great grief. Not only did Rin loose a an unborn baby sister, but she also lost her mother. Then, not even a week after her mother's passing, Rin's father went missing without a trace. Because Rin was so young, with no family, she was taken in by her clan. During this time, Rin felt so much anger and sadness in her heart over her mother's death as her father's sudden disappearance. However, despite all this, Rin persevered through all the hardships.



The Chunin Exam and Becoming a Chunin


Rin spent everyday she wasn't on a mission training and preparing for the upcoming Chunin exams. She learned not only lightning release but also wind release. Rin was 13 when the Chunin exams were held. The day came and Rin was definitely well prepared. In the preliminaries she fought against Sukai shinobi who used wind and earth release. It was not an easy battle for her but with her quick thinking and speed Rin came out on top. The rest of the exam was a piece of cake. Rin's team came out as one of the top teams to pass the exam.

The next year, Rin spent training even more. Her missions got more and more difficult. Even so, Rin never gave up. Rin also never forgot how her father left her after her mother passed. She would never be willing to forgive him for that and she had a plan for the future to track him down and kill him if necessary.



Rin's Days as Jounin


Rin remained a Chunin for about 2 years before her clan recommended her to be promoted to Jounin. So, at age 16 Rin was promoted to Jounin by the Kage of Joki. She became a sensei to a new team of genin that had just graduated from the academy. Even though it was not really the most appropriate thing to do, she treated her new charges like her family. It really helped her cope with the loss of her actual family. The team she was in charge of, consisted of two girls and one boy. However, the boy in the team was a cocky little brat, which often put Rin in a position where she had to teach him a lesson every once in awhile.

The team of genin managed to grow under Rin's guidance. They progressed quite well. During this time, Rin learned fire release. Rin and her team worked well together and she felt they could accomplish anything if they really tried but unfortunately, that wishful thinking of Rin's would cause Rin to pay the ultimate price.

One mission, a tragedy occurred. Rin had taken her team to the hyozangakure and were ambushed by a group of missing-nin from the kazangakure at the hyozangakure's borders. In the end, one of Rin's team members was killed and the other two badly injured. Seeing her team member, a young child, being killed in front of her, caused Rin to go berserk in a fit of rage. She killed all but one of the missing-nin that attacked them, the last got away with severe injuries. Rin's one team member attempted to resurrect the boy who was dead, but it was too late, his heart had stopped. It was a rainy day in the hyozangakure.

Returning to their home village, Rin reported what happened to the Joki Kage and a burial was held for the young genin who died. Rin couldn't forgive herself for letting that boy die. She felt it was all her fault that he perished. Mainly she felt this way because he protected Rin from a sneak attack by one of the missing-nin that was using a poison tipped kunai. From that day onward, Rin trained harder than ever before. She planned to become much stronger, so that no one would die because of her again.



Becoming A Sanin in Joki


Rin asked permission from the Joki Kage to leave the village. She wished to travel and train herself to become much stronger. The Kage granted her request and for the next year. Rin trained vigorously perfecting her Jutsu and her elemental releases. She wanted to be able to rival the strength of the Joki Kage, for the sole purpose to protect those she cared about.

When Rin felt she was strong enough, she returned to the village, only to be welcomed by the Kage himself. He had Rin promoted to the rank of Sanin. Rin couldn't believe that this was happening. She thanked the Joki Kage a million times and swore absolute loyalty to him and the village. Shortly after becoming a Sanin, Rin was put in charge of a new genin team. It consisted of the two girls from her old team and one new member who just graduated. This time, Rin would not allow any of them to die.

• Roleplay Sample:
RP Sample:

One day Kaguya was walking around and she gets a sudden summon to the Kage, she would report immediately and bow as she entered, smiling at her "Hello Sir,what do you need today?" She asks and she already is answering back with"You need to go back to the Water Country,an old friend is in danger from a group of Samurai, go find her and protect her" she finishes and hands her a paper with the full directions on it on what she had to do and where she had to go after so she would give her a nod, and then head out, already packed with her paper bombs, smoke bombs, kunai, shuriken, and food pills. Kaguya will head towards the entrance of the village and turn back for a moment like before as she continues on out to the woods outside of the mountain that the village is in, she travels till night time and she takes the night to rest, in the morning she would make herself breakfast and then pack her stuff up and sets off again, traveling one third of the way, just as she did last time, but also made it a little further before night fell once more, she once again made camp, the kunoichi would do as she always did, make dinner then go to sleep. Waking up just before the sun rise and making breakfast and heading of as soon as there was light, and then when the night fell once more she was at the village, Kaguya would see it mostly destroyed as the female she had escorted a couple months ago comes running up to her, she was battered and dirty, seems as if she had been barely surviving. She would just take her to the top of a local hill and make camp and let her eat, then sleep peacefully, and when morning hit She told her to go to Konoha and wait for her to return with any news before coming back, she would listen to her and she would give her what was left of her rations and send her to Konoha.

Kaguya would be traveling along the road when she heard approaching, and she ducked into a bush nearby, and she watched a wagon roll by with crates in the back, she would get up and sneak into the back of the wagon and hid in a crate, where she would wait, and sure enough, the wagon got attacked by the Samurai, and they would take the crates before checking them all, and she would wait and listen, It took her days, thank fully she was in a crate of apples that sustained her, but she finally got the information she needed and when the samurai were all asleep she snuck out of the crate and made a clean get away back to the village.

Kaguya would head back home shortly, She would take a few days to get back home but upon her arrival, she would report to the kage that the mission was a success and ten would be excused to go home.