• Name: Eiyū Diver 
• Nickname / Alias: The Mutant, The Abomination
• Title: N/A
• Age: 25
• Gender: ♂
• Sexuality: Heterosexual, but has sworn off reproduction




• Height: 6 foot even
• Weight: 250 pounds
• Body type: Bulky, but an almost unnatural looking bulk, but it's only shown under his coat.
• Eye colour: Golden
• Hair colour & style: Blonde, with long hair pulled back into a pony-tail and a beard.
• General Appearance: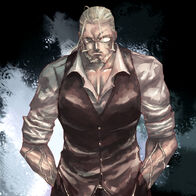 Through in dress pants, dress shoes, and an overcoat.
• Markings: A seal on his back
• Persona: Eiyū is a very shy and quite man, hating human interaction. Whether this is due to the kekkei genkai or because of his shame in his past actions, no one but him will know. In truth, it was a mix of his actions with the kekkei genkai that's made him into a self loathing human, that hate's his very existence.

If someone were to actually talk to him one on one, and are able to ignore his shy and quietness, and keep him from trying to get them to run away from him, they'll find that he is a very nice man. He's in love with nature, preferring to keep everything in its natural state. He also loves life, and believes all life is precious and must be preserved. However, he also knows when he must end a life, and will do so if need be.

However, he has another secret side he never brings up to anyone. His "alternate personality" that he has dubbed Captain Falcon. It's what the seal on his back is, it's the costume. Due to his shy nature, he has a hard time helping people when they're in need. However, when he dawns the disguise, he becomes someone completely different. Someone with confidence, someone who helps others. This part of him is a secret however.

• Motto: "I'm an abomination" "I'll never be connected like you can be."

• Likes: Nature, peace, wandering, success, money, Sage's.

• Dislikes: Himself, greed, power, hatred, war, Father
• Special Characteristics:


-Name:  Minor Mutation
Rank: S
Requirements: Be a Diver
Type: Physical
Description: The user has minor mutations, ranging from tiny wings, to horns, or whatever the player can think of. Divers with this SC have either close to perfect or near-perfect versions of the mutagen, and are completely sane. They gain +10 Str, +10 Dura, +20 speed
Open to the public: Only Clansmen with minor mutations

-Name: Stronger Than The Average Ninja
Rank: D-C
Type: Physical
Description: The user is slightly stronger than anyone of their rank. When it comes to strength within this rank the user will usually win. Anyone of higher rank is still stronger. 20 Strength stat increase.

- Name: Slightly Faster Than The Average Ninja
Rank: D-C
Type: Physical
Description: The user is slightly faster than an average ninja of their rank. When it comes to speed within this rank this user will usually win. Anyone of higher rank can still out run them. 20 Speed stat increase.



• Rank: B rank wanderer
• Elements:Lightning, Water
• Specialty: Tai, Fuin
• Clan: Diver Clan
• Bijuu: N/A

Stats:
B Ranked: 224 points
• Strength: 40 (+20) (+10)=70
• Speed: 30 (+20) (+20) = 70
• Durability: 60 (+10) =70
• Chakra: 54
• Village: Once from Kazangakure, now no where.
• Parents: Hyōmen Diver, father, dead. Botomu Diver, mother, dead
• Siblings: N/A
• Mentor & Idols: N/A
• History:

Eiyū Diver was a naive child. Despite being born into a clanless family with no last name, he still believed he could amount to something. He believed that if he just tried his hardest, he would be able to become a ninja worthy of praise, and become the Kazankage. While naive, he was good intentioned. It was because of this that he trained, and trained hard. He wished for nothing more than to become powerful, loved by his village and feared by all others.

He went through the academy normally. He wasn't outstanding or a failure, just average. He received no praise, nor was he scorned for his weakness. He simply was, no more no less. It wasn't until he became a Genin and his skill were put to the true test that he began to realize how truly talentless he was. He was bad at most of the advanced things he tried, failing horribly when he tried to learn a jutsu of any type.

However, he wasn't deterred. He simply tried as hard as he could until he finally got it down, even though his teammates were gaining a heavy lead on him in terms of power. When him and his teammates entered the Chuunin Exams, he was dead weight for the most part, dragging them behind most of the time. At some point, after gathering some supplies during the exam, he heard one of his team members call him a 'useless waste of energy.'

Eiyū was crushed. He was completely demoralized, and would try his hardest to stay out of the way of his teammates for the rest of the exam. To everyone's surprise, he became a Chuunin that day with his teammates. On that day, he realized something. He was now alone, more then likely having to do higher level missions on his own, even though he was weak.

Him graduating was a mistake.

So, he did what he had to to survive: He flew under the radar by doing simple escorts and other low-ranking misions, and even did a bit of pick pocketing to full blown thievery to gain money. He was, surprisingly, never caught. It was through this that he gained great wealth, but he was still a mediocre ninja at best.

Years of this, and he finally cracked. May it be greed, or fear of his life, he wanted the power. He needed the power the clans held, and would stop at nothing for it. So, he used his wealth and payed people to make him a kekkei genkai. He set up a facility, and began to kidnap people young and old.

It took them years, but they were finally able to make it. It was right when he took the shot that gave it to him, that the rest of the-what he can only describe as- monsters broke out and ran rampant. He was able to escape unharmed, however the village he came from listed him as dead. After seeing the harm he caused with his money, the guilt overtook him. It was on that day that he chose to wander the world, helping those as the vigilante hero Captain Falcon.

• Roleplay Sample: Can I not since I be Taika?
Last edited by Eiyū Diver on Tue Feb 16, 2016 9:30 pm; edited 3 times in total