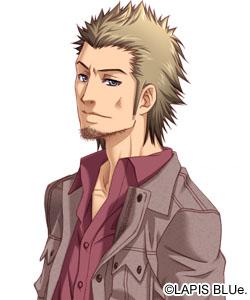 • Name:  Zettai Tekina
• Nickname / Alias: 'The War Ender', 'Ika'
• Title: Buntaicho
• Age: 24
• Gender: ♂
• Sexuality: Heterosexual
• Height: 5'6"
• Weight: 140 lbs
• Body type: Ectomorph
• Eye colour: Brown
• Hair colour & style: Shaggy, long, dirty blond
• General Appearance:
Spoiler:
• Markings: His hands are unnrecognizable from the rest of his body, due to the large amount of scarring and blistering that has occurred to them. Due to this, they are normally kept hidden beneath a couple layers of combat tape.
• Persona:
Zettai may be one of the quietest shinobi you ever meet. Finding little joy in conversation with fellow people, he is usually found at the back of a gathering, with his arms crossed and eyes closed. When he does speak up, his words are short and consice, keeping the conversation going but never applying more effort than needed. Choosing to keep fewer 'friends' than 'allies', Zettai surrounds himself with powerful people as much as possible. This is out of fear of death; Zettai has lost many people close to him because they weren't strong enough to protect themselves. This has led to a habit in which Zettai will forsake the weak simply for the fact that he can't afford to care about them.
Spending most of his life believing in a dream, Zettai had a crisis when that dream was shattered. Although his life spiraled uncontrollably for a time, he managed to pull himself together. Still, he has found that life has since lost its lustre and become monotonous. This has has lead to a habit of always signing up for suicidal missions when one arises, as well as performing in dangerous, adrenaline-pumping activities and feats in order to bring some excitement back to his life. Although this has put him in the path of both villainous and heroic characters, he has made few true enemies.
Almost always found at some sort of training ground or commanding jounin's office, Zettai is surprisingly eager to share knowledge with his peers if they request it from him (please note Zettai must consider them his peers, and no other person or system's opinion will matter), although he will rarely offer it himself. This, too, is done in an effort to keep his friends alive. The more knowledge they have, they better they can protect themselves. The over-protectiveness ends there, however, as Zettai will spend as much of his leisure time as he can away from other people instead of hounding over them (unless he's helping someone with something, as mentioned above).
It can be rather difficult to engage in a true fight with Zettai. This is due to a reluctance the man has about using his ability, instead relying on the lesser components of it for most of his skill library. However, when pushed to his limit, Zettai will unleash his full might without mercy on whatever he deems is deserving of it. This limit constantly increases as Zettai works on his patience through meditative exercises, but will never disappear. Because he has been constantly hunted for this ability ever since acquiring it, he has developed an intense paranoia about who knows he has it, and generally keeps his identity a secret.
• Motto: "You Either Make Dust or Eat Dust"

• Likes: Privacy, Justice, Forgiveness, Love Stories, Happy Endings, Sad Endings, Irony, High-Risk Activity, Teaching

• Dislikes: Murder, Stupidity, Ignorance, Discrimination, Prejudice, Bullying, Repetitive Phrases, Sing-Song, Large Crowds, People Focused On Him, Menial Activities

• Special Characteristics:


 Spiritual Stamina [C Rank] - The user has a strange amount of chakra to their naturall stamina, able to produced more then the average nin. Gains 25 chakra stats (cannot have medical as a specialty)

Elemental Talents [C Rank] - The user has natural talents with their dominate element, attacks with that element do one rank more damage the other jutsu of the same rank. Only C rank and lower.  (only applies to dominate element).

• Rank: AnBu
• Elements: Jinton, Futon, Katon, Doton
• Specialty: Ninjutsu, Kenjutsu
• Clan: -
• Bijuu: -

Stats:
224 + 20 + 25 (Chakra) = 269
• Strength: 42
• Speed: 42
• Durability: 80
• Chakra: 80 (+25)

• Village: Kazangakure
• Parents: Chiyo Tekina - Mother - Dead; Ebizu Tekina - Father - Dead; Mu Hokori - Adopted Mother - Alive; Onoki Hokori - Adopted Father - Dead;
• Siblings: -
• Mentor & Idols: -
• History: Growing up in Kazangakure, you learn to react quickly to dangerous situations. Living beneath an active volcano that could go off at any moment was always terrifying, and required constant vigilance from all able-sighted members of the village. But sometimes, having reflexes just isn't enough. There's a mental strength, a fortitude, that comes with experience, and that's something that Zekkai didn't possess when he was 10 years old, and his world burned around him. It turns out, he didn't have to worry about natural disasters at all, the people around him were his biggest threat.
Ebizu Tekina was a powerful, prominant figure in Kazangakure before his and his wife's assassination. Although not a full-fledged clan, the Tekina couple were just as renowned for their ability to manipulate multiple elements at once with ease. Ebizu had a chakra potency not seen in generations from a normal human, and Chiyo's chakra control was unrivalled -- together, their collaberative jutsu was unstoppable. That's why Zettai found their bodies on opposite sides of his estate's yard. The assailant had ambushed them separately while they were relaxing at home without each other's protection. It would be four years still before Zettai learned that it was his father's own brother that had slewn them, an act that would send him down a path of no return.
After his orphaning at 10, Zettai was taken in by a local, barren family that had no children of their own. It took some time before Zettai was used to relying on strangers, but soon they weren't strangers at all, and he could call himself part of a family again. His schooling, on the other hand, only suffered from the experience, and his future as a shinobi was threatening to vanish. He had to pull together every vestige of his concentration to pass the Academy exam, but managed to do it with the encouragement of his adopted-father. It was during his time in a genin cell that he learned of his inherited chakra potency and natural elemental affinity. Picking up elemental chakra mastery at a much faster rate than his peers, he acceled.
A chunnin and then jounin with only two years between, Zettai had proven himself in the eyes of his superiors to the point that they promoted him without the need for taking an exam. At 14 years old, he was an incredibly young jounin. While not a record-breaker, it was still an impressive feat, one that put a bounty on his head. One night, while relaxing after an A ranked mission, Zettai was attacked in his home. During the resulting conflict, he learned that these assailants were also responsible for the death of his parents. This knowledge allowed for him to combine both his massive chakra and advanced element manipulation together in order to create Jinton. Using its incredible destructive power, he easily over-powered and killed his would-be assassins. Learning of their true identity, his own uncle and his card buddies, Zettai collapsed under the weight of knowing nobody could be trusted.
Deciding to leave in order to maintain his family's safety, Zettai requested a leave from his Kazankage in order to perform some intensive training. After demonstrating his Dust Release, permission was granted and he set off henceforth to hone it as a weapon for his village. During his isolation, he trained himself to endure the high cost of performing Dust Release techniques, keeping himself in peak physical condition while performing extensive meditation and reading as many scrolls as he could get his hands on to increase his spirituality. Although he had intended this mission to separate himself from people, he found himself drawn to a rivalry with a shinobi from Hyouzagakure. The two used each other as springboard's pushing each other further and further until they could take each other no higher. Parting ways, they promised to find each other again when they had grown stronger, and see once and for all who was strongest.
Returning home a few years later, Zettai applied for AnBu and passed, no doubt due to his newfound mastery over Jinton. Burying himself in his work, he continuously threw himself into more and more dangerous missions in an effort to avoid returning home. After all this time, Zettai hadn't gone to visit his adopted family even once since the day he left at 14 years old. It was only after a fellow AnBu member noticed and brought it up to him that he considered it. When he finally mustered up the courage to visit, it was too late. His father, his second father, had died from a heart attack while he was away. This shattered another core part of Zettai's foundation, like discovering his uncle was his parents' murderer, realizing he couldn't protect everyone all the time drove Zettai further down a path of isolation. Although he attempted to resign from AnBu in order to re-assess his life, he was instead swindled into accepting a Buntaicho position.
Taking on a squad of fresh AnBu, he was instructed to teach them and help them grow. If they would have been children, it would have been fine. But most AnBu were close to his age if not older, and they had little left in the 'basics' section to learn; everything that had to be taught to AnBu was intensive, full-attention work. Becoming more involved in other individual's lives helped take Zettai out of his shell, and he found himself being around people more. And then, when he was 21, Zettai's final 'core' in his foundation as an individual was smashed into pieces. Once more, he was ambushed. This time, however, he had his squad with him and made short work of the ambush. Unfortunately, combating the first wave of assailants was the true trap, and second quickly swooped in to pick them off. Weary from their first fight, they lost three out of five members of the squad that day.
Swearing revenge on the world, Zettai took it upon himself to hunt down everything that sanctified the rights of anything else. Deciding that his life itself was valueless unless affecting another, he made it his mission to right whatever wrong he was directed at. Accepting that there was no incarnate 'right' or 'wrong' in the universe, he put his faith in his kage to determine what was right and wrong for him. Determined to be useful at all costs, Zettai continues his duties as an AnBu squad captain in order to pass on his knowledge to other assets as well as engaging in as many high-level missions as he can to prove his value.

• Roleplay Sample: Geology was an interesting subject. As it turned out, 'ordinary rock' didn't exist -- it was a myth perpetuated to make you believe that all things in the universe are homogoneous (they aren't). Living in Kazankagure, there was a host of mountain ranges and volcanos to explore that couldn't be beat at discovering how the world around them formed. Reflecting on this for a moment as his feet thudded along the soot-covered ground, Zettai contemplated just how many layers there really were. Modern science only allowed for Chakra Probes to go down so far, and shinobi have run out of chakra before making it to the bottom, so they had no true way of knowing. Only speculation. It really made one wonder.

Suddenly, a pebble made it too far past his range of chakra sensory, and he had choice but to jump a little higher to avoid tripping. That's what I get for gettin' distracted. Concentrating once more on reaching his destination, he focused his eyes on the ground in front of him. His destination was dead ahead - the AnBu compound - but he felt it wasn't nearing quick enough. Picking up the pace, dust was thrown up behind him as he made a mad dash. He had never been late before, he was certainly cutting it close today, and he didn't want to ruin his flawless reputation. Technically, though, this wasn't a formal meeting; regardless, he had made a promise to meet with Yazuro and he didn't want to disappoint.

There. He could see him. A thin line of smoke trailed to his side, leading down to a thin cigarette he had placed haphazardly on his bottom lip, barely being held on by the bottom. His eyes were glazed, and he was obviously lost in thought. But still. He was smoking. He didn't do that often, so when it did, Zettai presumed there had to be a trigger. "Hey Yaz. Sorry I'm late. Are you ready to go?" Holding his hand into the air as a gesture of salutations, he lowered it back to his side as he came to a skidding halt just in front of his underling. "I've prepared something really special for you today, so I hope you enjoy it!" Turning toward a slightly forested area, Zettai set off on a march as Yazuro began to follow.

He's been telling me how badly he needs a new sword technique. I hope this gets him to quit bitchin'. His thoughts were harsh, but mostly insincere. Zettai cared for his comrade a fair deal, and the whole reason he agreed to teach him a new  technique was in an effort to keep him alive. After all, he couldn't let what happened to ...them happen to him. Steeling his gaze back on the trail, he suddenly flung himself into the trees and used them to power their journey. Hearing footsteps behind him, he was satisfied. "Yeah, I think this is gonna be really somet-" Suddenly, he was struck in the side by what felt like a log, throwing him out of the trees. Assessing himself and flipping to land on his feet moments before impact, he immediately began sensing the trees.

Yazuro was gone. He was nowhere to be seen, and what was worse, neither was the person that struck him. On the ground, he noticed what appeared to be a pre-cut log section. So his 'Damage Memory' was working well. That was good. Reaching up to draw his sword, he let it slide out of its scabbard slowly, the noise echoing in the eerie quiet of the forest path. This is strange. Normally, there are birds chirping here and bugs whizzing. The sound of steel on steel began to fade out, and Zettai instantly clued in. With a smirk, he slammed the weapon back into it's centered back-holster before slamming his hands into the 'Tiger' hand-seal. "Kai!" He shouted, his grin growing as the sounds of nature returned to him and his vision fizzled for a moment before revealing Yazuro captured by three VERY large bandit-looking shinobi.

"I thought I'd find you here, War-Ender. It seems to me like you have no choice. Now, we can do thing's the eas-" Although he had been threatening Yazuro with a  vicious-looking, serrated blade, Zettai wasted no time in initiating an attack. His squad was well-versed in his methods of operation, and had been instructed time and time again to trust him. As he ran, he activated his Earth Release: Light-Weight Rock technique. With every step, he climbed higher into the air until he was just tall enough to kick the main aggressor in the face. Rapidly spinning, his feet extended fully to strike the other ninja as well, but they vanished in a puff of smoke. From inside the woods, birds began to flee their nests and perches; Zettai immediately began to feel the very air cry out.

Something was coming, and it was big. Wherever they had vanished too (and with a quick glance, Zettai confirmed the one he had struck was gone as well), it didn't have anything nice living near it. The tree's defiant cracking and crashing from falling over began to make it's appearance in Zettai's ear drums, and he knew it wouldn't be long before whatever they had summoned or prodded in their direction was coming. Unbinding Yazuro from the glowing rope that held him, he double-checked that he both had no wounds, and was legitimately Yazuro. Other than that, he left the young man to deal with himself. There was much more that he would be able to do than Zettai could ever imagine anyway, so there was no point in wasting valuable time.

"Listen up, something is going to reach us and when it does, I need four minutes. As long as we get four minutes, I can reduce anything the size of a tailed beast to nothing. Are you ready?" The young man nodded, and Zettai nodded back, satisfied. "Alright. Good luck." Vanishing in a puff of smoke before the fellow AnBu member, he offered a quick prayer to the god of death to stay away this day. Reappearing on the ground several meters away from the area they were in, Zettai began casting hand-signs. As the chakra began to flow and mold within and around his body, he could feel the sweat immediately break through his pores and begin poring down his face. This particular jutsu was one he had been hoping to save for a much more glorious moment, but he supposed protecting himself and someone he cared about was just as good.

I just need a little bit more time. I hope you're alright, Yaz.[/i]